As skiers, we rely on our poles to direct each turn, and yet, we don't always channel that same intent and direction when purchasing them. Buying poles may not feel as monumental a moment as purchasing skis or boots, but it's a necessary task worth doing carefully.
Pole technology is ever changing and companies constantly specialize and refine their efforts. As such, it's a mistake to think, "one pole fits all." Just as a freestyle skier requires a softer boot than a ski racer and a ski with a skinnier waist width than a powderhound, so too are there different poles for different skier types.
Types of Poles:
All-Mountain Poles:
All-mountain poles suit skiers who charge resorts from the bowls to the groomers. They are made to satisfy those who skis trees, moguls, jumps, cliffs and cornices on any given day.
Backcountry Poles:
While all-mountain poles are designed to help you get down mountains, backcountry poles help you get up them, too. BC poles have adjustable lengths, so you can shorten them for steep ascents, lengthen them for downhill skiing and collapse them for storage.
Park Poles:
Park skiers rarely plant their poles – unless they need an extra boost before a jib or jump. They mainly use poles like a tightrope walker does a balance bar, relying on them for stability in the air. Park poles are durable, stylish and smaller, providing optimal swing weight to turn cork fives into cork sevens.
Pole Components:
Thankfully, a whittled stick with leather straps no longer passes for a solid ski pole. Welcome to the future of skiing, where each component of the pole determines performance, weight and durability.
Materials: Usually, skiers must decide between aluminum and carbon fiber, the two most common materials used in ski poles. Bamboo, graphite and other maerials are also on the market. Aluminum is reliable and inexpensive but heavy. Carbon is flexible, lighter and pricey. As weight goes down, price goes up. Find your equilibrium.
Grips: Traditionally made of cork, plastic or rubber, you should choose your grips based on personal preference – one material or grip-style isn't necessarily superior.
Straps: Straps are often made of nylon or plastic. Hard charging all-mountain skiers prefer padded straps in case their pole gets caught on a tree or stuck in heavy powder.
Baskets: Baskets with higher surface areas prevent poles from sinking into powder. Backcountry and powder skiers prefer larger baskets. Smaller baskets suit packed conditions.
Sizing:
Flip your pole upside down and hold it with your elbow tucked to your side. With the grip touching the floor, place your hand flush underneath the basket. For an all-mountain pole, your elbow should create a 90-degree angle between your forearm and bicep. Most backcountry poles are adjustable, but if not, size your powder pair 5 to 10 cm shorter than your downhill poles. Park poles should size 10 to 25 cm shorter than downhill poles.
Price:
Poles range from $20 to $200 dollars. Backcountry poles tend to be technologically complicated and require lighter, more expensive material, so they cost more than all-mountain or park poles. If you're a sporadic skier, stay thrifty. An experienced skier will require more from his or her poles, and will pay for amplified performance.
Key Pole Attributes
Durability: the beating your pole can endure before it bends or breaks
Stiffness: the amount of stability and flexibility your pole will provide
Weight: actual weight of the pole
Technology: innovations with shafts, straps, grips and baskets that make a pole exceptional
Backcountry Poles
K2 Lockjaw Carbon-Carbon Probe
K2 Lockjaw Carbon-Carbon Probe
Uniquely balanced with advanced technology that doesn't weigh down the ultra lightweight shaft, the Lockjaw is a peak climber's dream. It's perfect for someone constantly evaluating snow safety, as it comes with an inclinometer, which reads the degree of the ski slope. It also has a ruler to measure the depth of top-layers, and can telescope to 200 cm to be used as a short probe.
Best For: Climbing taller peaks safely
Key Attribute: Weight
Black Diamond Compactor Aluminum
Black Diamond Compactor Aluminum
Black Diamond brings tent pole tech into the ski pole stratosphere. Using Z-Pole technology, Compactor Poles fold up for consolidated storage during travel, but as a result, the length range is small (115-135 cm). The poles use a rapid deployment system to straighten and stiffen the pole's joints, so you can get to skinning or skiing instantly. Foam lining sits beneath the plastic grips so you can choke up on the pole during steeper pitches.
Best For: Splitboarders and world-traveling backcountry skiers
Key Attribute: Technology
Atomic BCT
Atomic BCT Ski Poles
This multi-functional, aluminum pole is effective for backcountry travel and resort skiing. Heavy but durable, it extends from 110 to 155 cm, and comes with two baskets: powder and all-mountain. With it's foam lining grip extension, these poles will get value-minded skiers through any front, side and backcountry terrain.
Best For: Long winter camping trips with tough skiing and climbing conditions
Key Attribute: Durability
All Mountain Poles
Leki Spitfire
Leki Spitfire Starting at: $94.96
These poles can take you down every bowl and mogul run. For the aggressive resort skier that puts the "all" in all-mountain, this lightweight, durable, carbon pole can take you anywhere. The Spitfire features Leki's Trigger S system, a snap-in, snap-out strap. The pole can also snap directly into your Leki gloves, which saves you the aggravation of sliding the strap on and off. The system ejects like a binding for safety and comes with a two-year warranty.
Best For: Dicing up tree runs and powder stashes
Key Attribute: Technology
K2 Style 9
K2 Style 9 Carbon Ski Poles - Women's Starting at: $53.98
This ladies pole has a grip made specifically for women's hands. While most poles are unisex, the Style 9 was tailored to provide women with a light, stiff pole harmoniously complemented by said ergonomic grips.
Best For: Bouncing through moguls and carving steep terrain
Key Attribute: Weight
Line Pollard's Paint Brush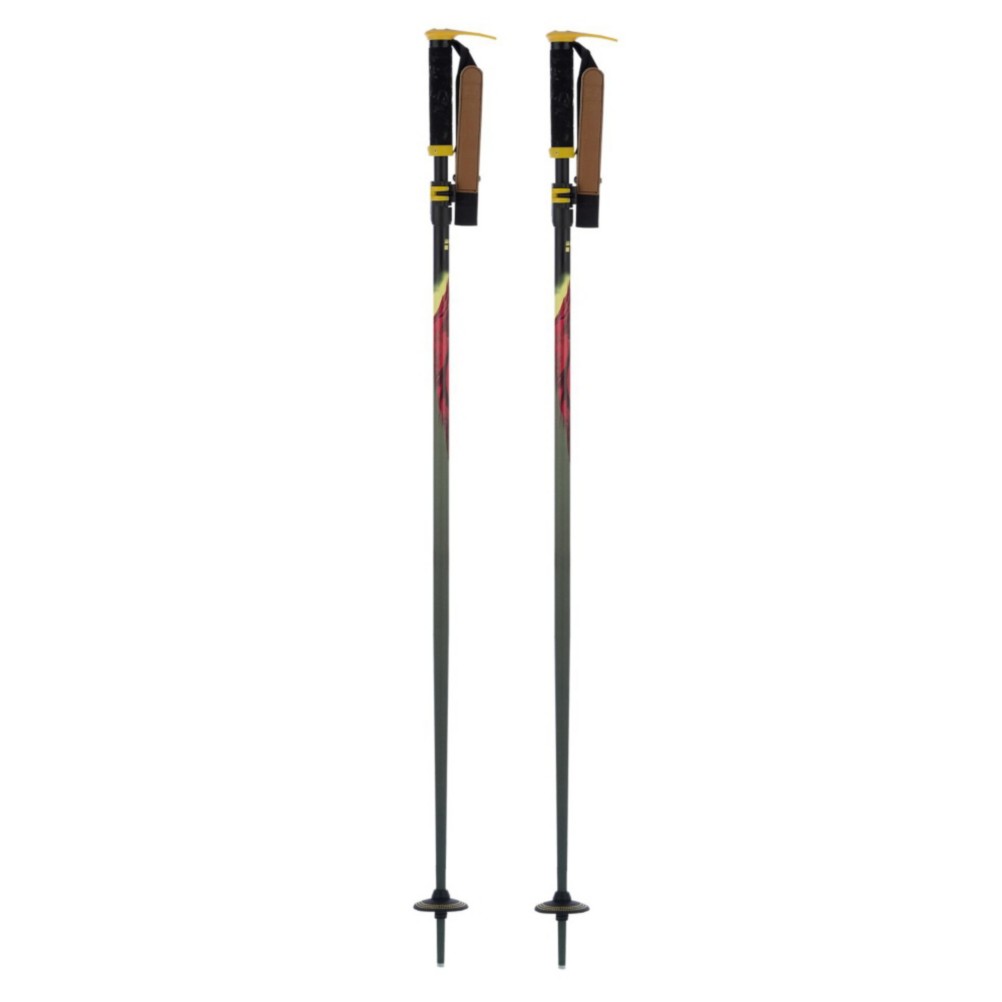 Line Pollard's Paint Brush Adjustable Ski Poles
Plan on dipping in and out of the pow? A dynamic, multi-functional pole, the Paint Brush telescopes for boot packs and skins. With a tough aluminum shaft and both all-mountain and powder baskets, the Paint Brush handles every kind of resort and sidecountry terrain. Designed to look and feel like bike grips, Line's BMX grip is super comfortable, even with mittens. The handy Grab Tab sits where the thumb and pointer finger meet and keeps the pole in-hand, so park skiers can use all ten fingers on their truckdrivers.
Best For: Shooting the chutes, hitting the park and slashing groomers – all in a day
Key Attribute: Technology
Black Diamond Aluminum Fixed Length
Black Diamond Aluminum Fixed Length Ski Poles Starting at: $75.57
Made for the skier that eats lunch on the lift and catches the first chair, the Fixed Length poles provide you with stiffness and durability for full days of skiing. The poles come with nylon straps and plastic, dual density grips for ultimate pole control. These poles are the toughest in the Black Diamond line.
Best For: Charging moguls with confidence
Key Attribute: Durability
Atomic AMT
Atomic AMT Ski Poles Starting at: $60.89
The AMT is a buyer-friendly pole that won't sacrifice performance. This pole is made of bomber aluminum for a beginner to intermediate skier. If you only plan on spending a few weekends in the mountains this year, then this pole will fit your fancy.
Best For: Budget skiers and beginners
Key Attribute: Durability
Park Poles
Line Pin
Line Pin Ski Poles Starting at: $35.08
Line's Pin is anything but your average park pole. The Grab Tab allows a five-fingered grab, and thus, greater extension. The Pin comes with all-mountain baskets, but they do unscrew in the event you want to chase powder. The stiff, aluminum pole helps you line up your jib or jump with perfection, and it comes in black or red and yellow.
Best For: Getting extra height (and attention) in the park
Key Attribute: Stiffness
Volkl Phantastick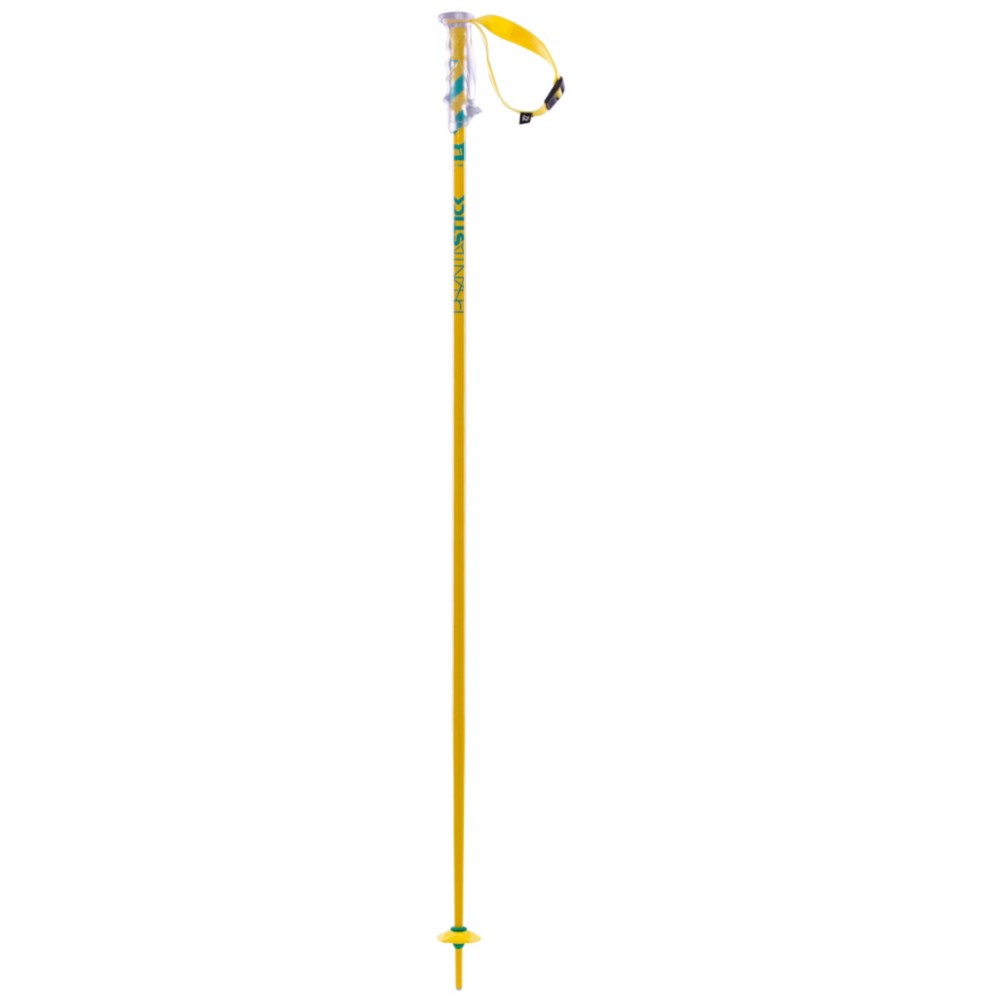 Volkl Phantastick Ski Poles Starting at: $66.83
A thick, stiff aluminum pole, the ladies Phantasick poles are sold in pink, purple, white and mint. The low swing weight and soft, transparent grip is tailored to female park riders.
Best For: Boosting higher and spinning faster
Key Attribute: Durability
Share this Article